Regular price
Sale price
$19.99 USD
Unit price
per
Sale
Sold out
Free Shipping on Orders over $50!
Share
The-All-In-One Supplement for Optimal Health
The perfect balance of vitamins and key micronutrients helps keep your body happy, healthy, and running at its highest efficiency.
~
Multi-vitamins are essential for maintaining a healthy lifestyle
Looking for a well-balanced supplement to support total body health? Look no further! Our unique formula provides a variety of nutrients not found in other supplements, including B complex vitamins, olive extracts and biotin. These nutrients help boost your metabolism while also supporting eyesight and hair/skin conditions. The Age-Related Eye Disease Studies (AREDS) have shown that supplements containing certain essential vitamins and minerals can promote eye health. Our formula is packed with antioxidants like beta carotene, Vitamin C, Vitamin E, zinc, copper, lutein, and lycopene. These nutrients are all important for maintaining overall health and wellness. So why wait? Order our supplement today and start feeling your best!
Key Benefits of our Full Spectrum MultiVitamin
Complete multivitamin assures optimal cellular nutrition and repair
Easily absorbed and gentle on your stomach
Patent protected active forms of micronutrients for balanced health
Supports strong and healthy hair, skin, nails, and eyes
Balanced for total body health
Ingredients & Warnings
Each bottle of Total Health MultiVitamin contains 60 capsules providing a 30-day supply following the suggested serving size and regimen.
Suggested Use:
Take 2 capsules daily with breakfast or lunch, or as directed by a trusted healthcare provider.
Ingredients:
Proprietary Blend 250 mg [Olive Leaf Extract, Glycine, Taurine, MSM (methylsulfonylmethane), L-Proline, N-Acetyl-L-Cysteine, Vitamin B3 (niacinamide), Vitamin B6 (pyridoxine HCl)
Plus:
Vitamin A (beta carotene)
Vitamin C (ascorbic acid)
Vitamin D (cholecalciferol)
Vitamin E (mixed tocopherols / tocotrienols)
Vitamin K1/K2 (phytonadione / menaquinone)
Vitamin B1 (thiamin)
Vitamin B2 (riboflavin)
Vitamin B3 (niacinamide)
Vitamin B6 / P5P (pyridoxine HCl and pyridoxal-5-phosphate)
Folate (5-MTHF)
Vitamin B12 (methylcobalamin)
Biotin
Pantothenic acid (d-calcium pantothenate)
Iodine (potassium iodide)
Potassium (potassium iodide)
Zinc (amino acid chelate)
Selenium (selenomethionine)
Copper (amino acid chelate)
Manganese (amino acid chelate)
Chromium (amino acid chelate)
Molybdenum (amino acid chelate)
Boron (boron citrate)
Vanadium (vanadium sulfate)
Acetyl Carnitine
Coenzyme Q10
Alpha Lipoic Acid
Lycopene
Lutein
Zeaxanthin
Kale
Spinach
Maitake Mushroom
Beet
Grape Skin Extract
Lemon
Garlic
Parsley 
Other Ingredients: Gelatin capsule (colored with FD&C Red No. 3, FD&C Blue No. 1, and titanium dioxide), magnesium stearate
Warnings:
If you are pregnant, nursing, or taking other medications, consult your healthcare provider before using this product.  As is the case with all supplements, some individuals may not tolerate or may be allergic to the ingredients used.  Please read the ingredient panel carefully prior to ingestion.
Disclaimer:
These statements have not been evaluated by the Food and Drug Administration. These products are not intended to diagnose, treat, cure, or prevent any disease.
View full details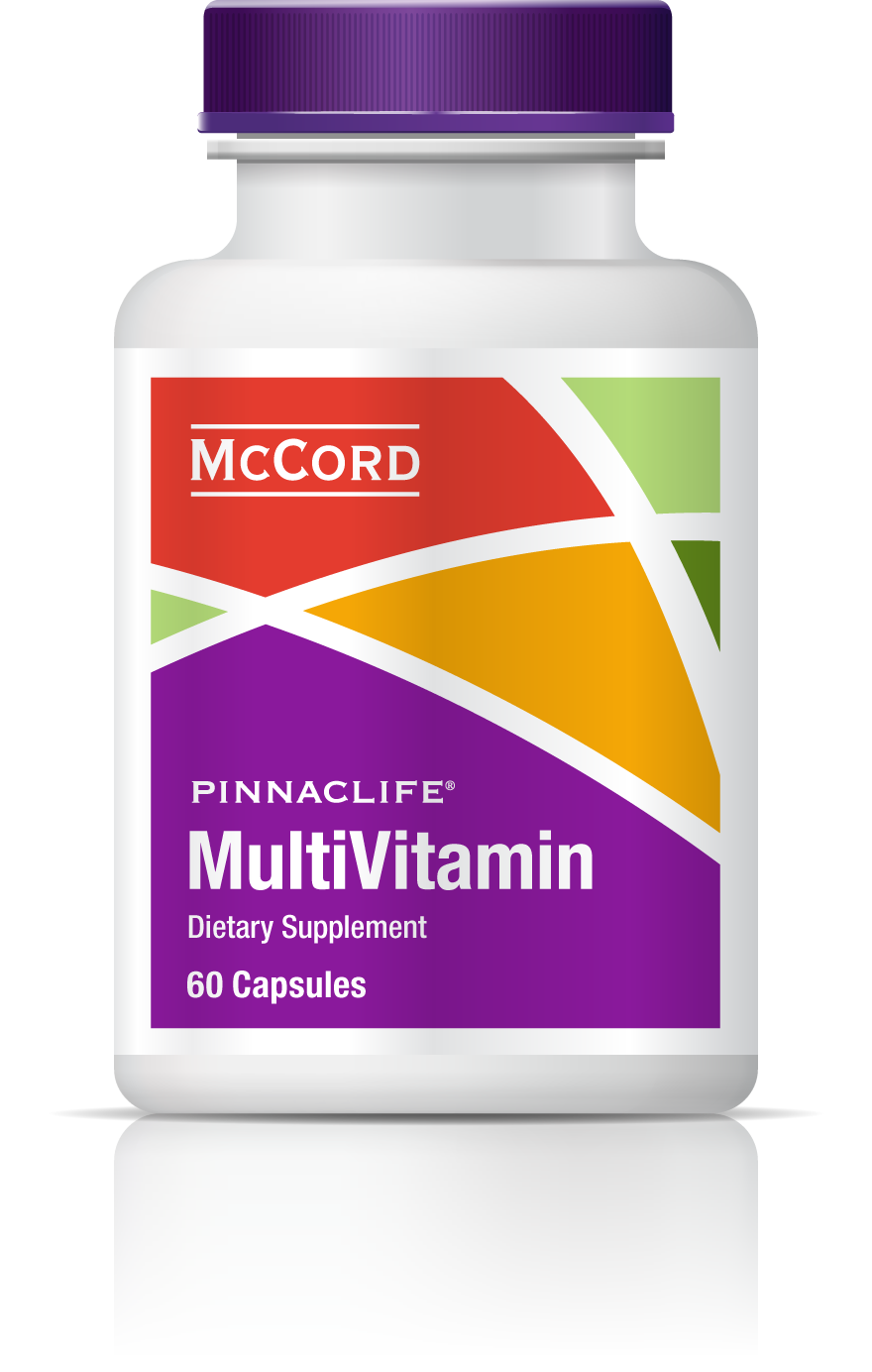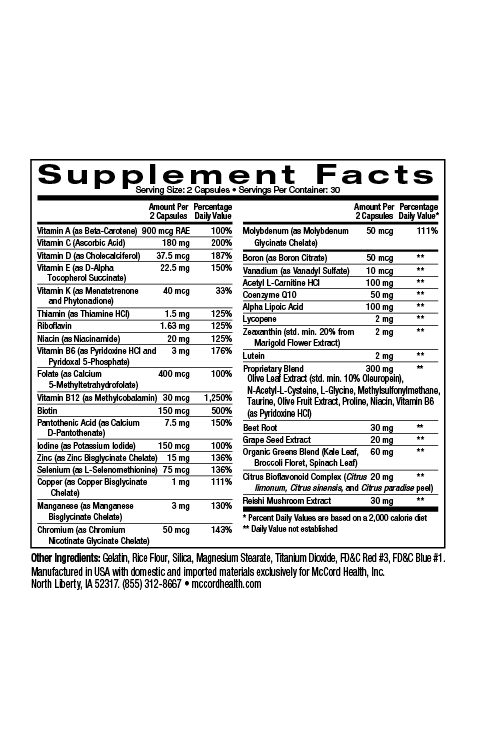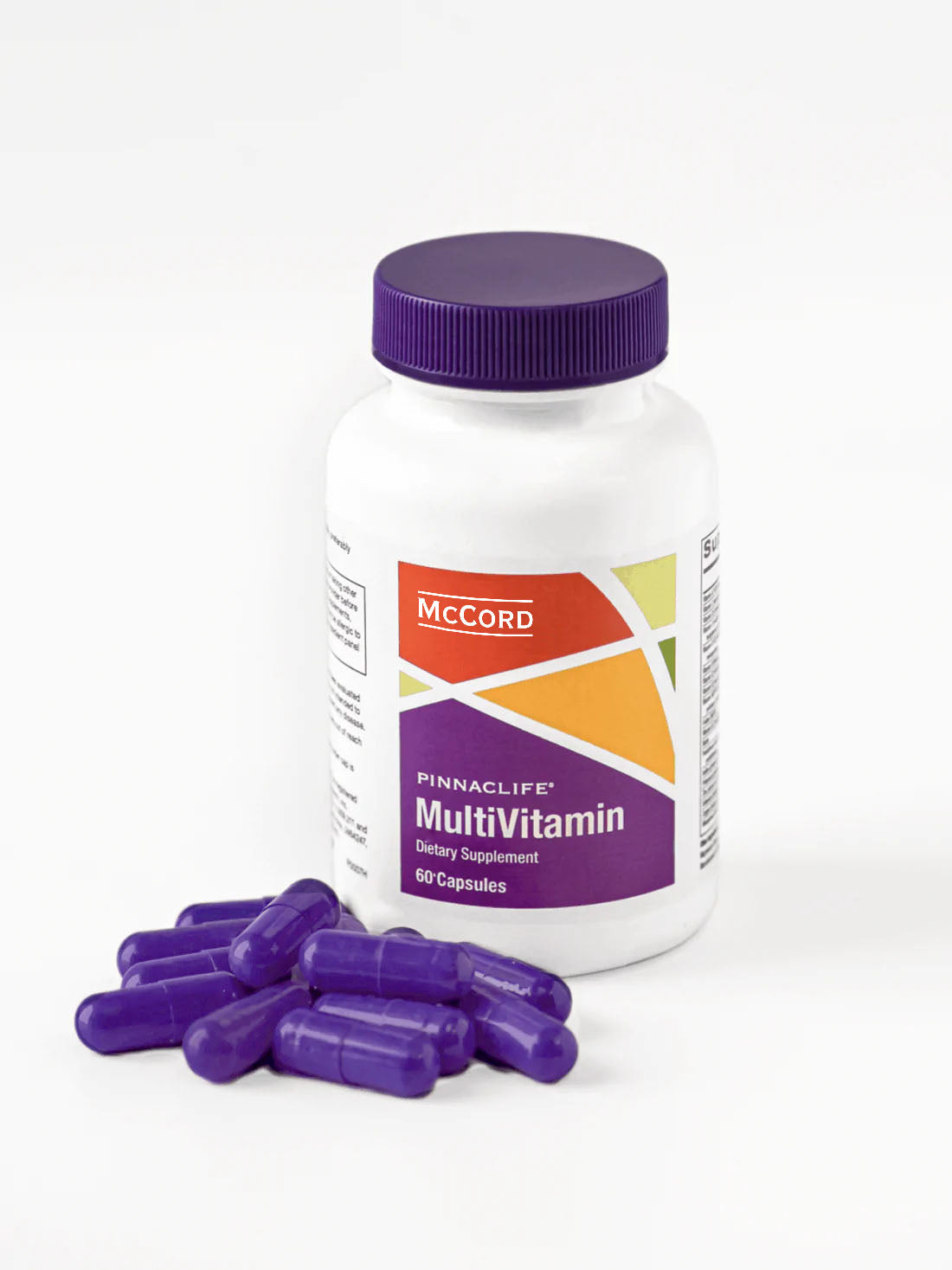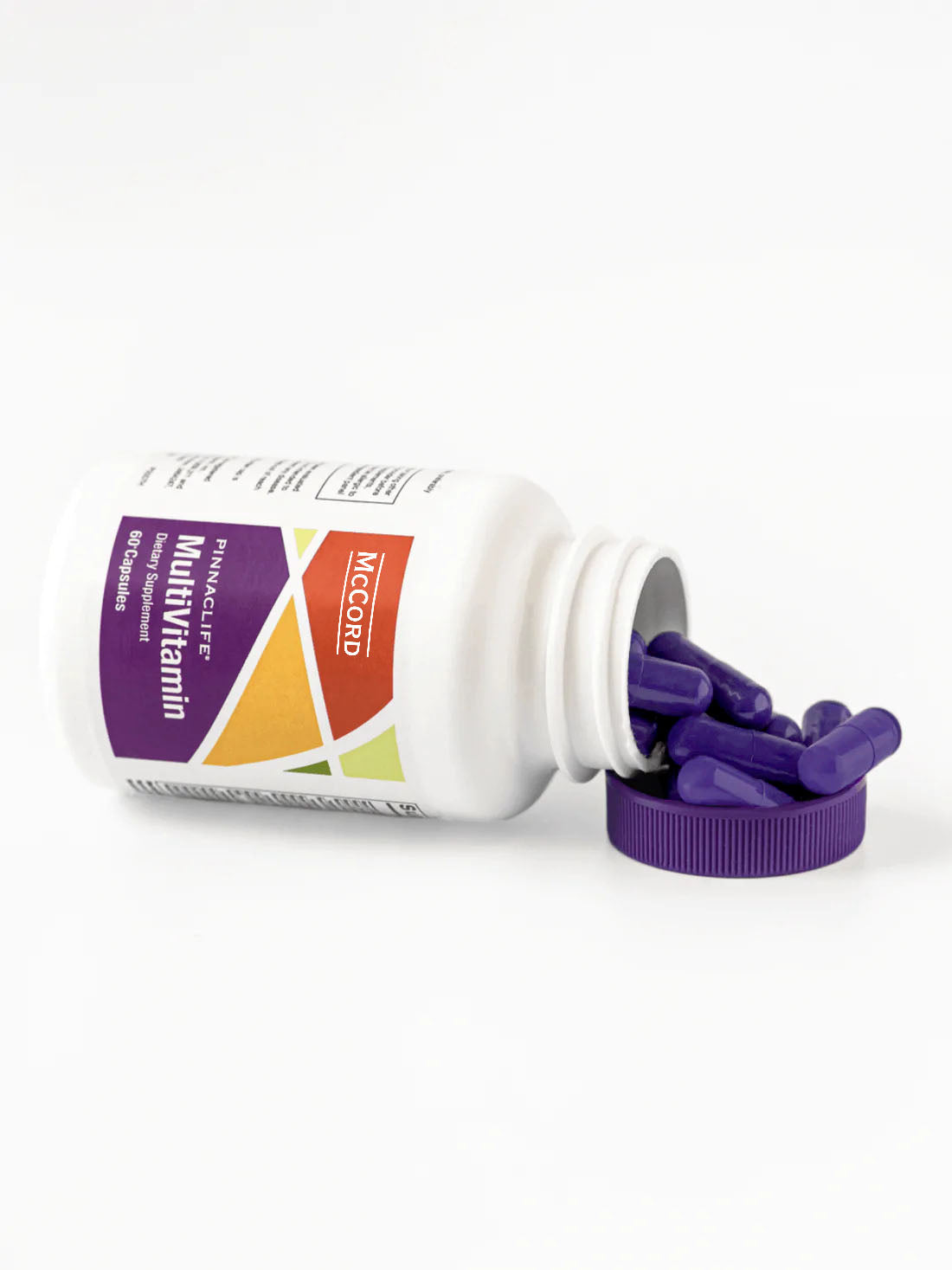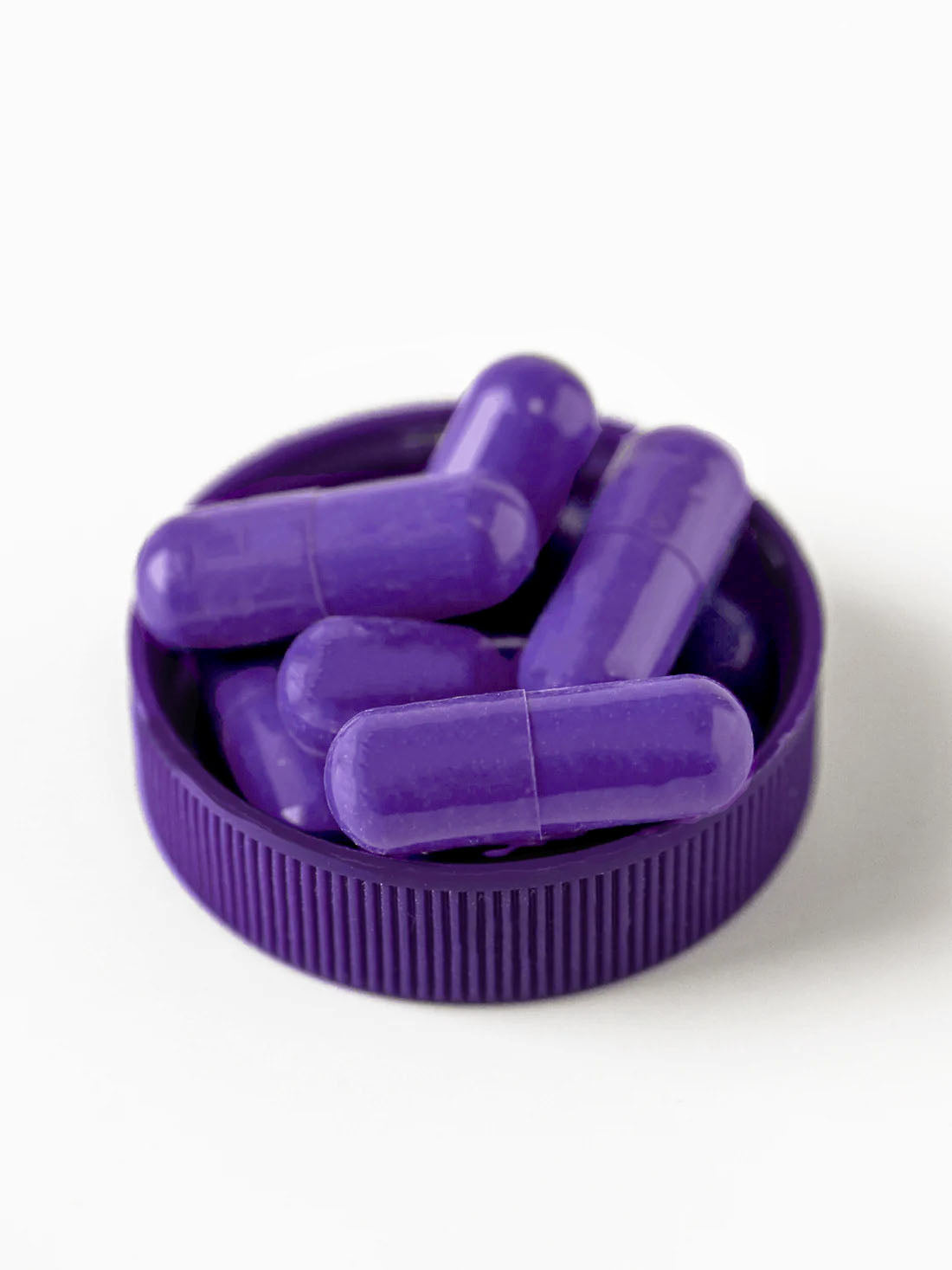 Shipping

Flat rate shipping is $7.95

Free shipping on Orders $50 and up