Regular price
Sale price
$19.99 USD
Unit price
per
Sale
Sold out
Free Shipping on Orders over $50!
Share
Improve Memory, Focus and Energy!
Taurine, vitamin B12, folate, and magnesium promote healthy brain cells and work together to help achieve optimal brain health.

~
Cognitive support for a healthy brain!
It can be frustrating and even embarrassing when you start to forget things. Names, faces, where you put your keys- it feels like your memory is betraying you. But you're not alone. As we age, it becomes more and more common to have difficulty with memory recall. But there is hope! BrainHealth is a powerful supplement that can help support memory function and focus. The key ingredient is olive extract, which is known as "brain food" for its ability to nourish the mind with essential nutrients. We've combined this extract with other powerful ingredients to create a formula that can really make a difference. So don't give up- give BrainHealth a try!
Key Benefits of BrainHealth
Memory and cognitive function support: Improve focus and clear thinking for a better memory
Dietary support for a healthy brain: Delivers nutrients to brain cells
Stimulates antioxidant & neuroprotective pathways
How Do I Keep My Brain Healthy? Top Nutrients for Brain Health:
Keep your mind fit with a proactive approach to brain health by giving it what it needs to stay sharp. Getting enough Vitamin D3, Vitamin B3, Vitamin B6, Vitamin B12, Folate, Taurine, and Magnesium are essential to improving brain function and enhancing memory. This "brain vitamin" also uses the powerful small molecule nutrients from olive extracts that can pass through the blood-brain barrier and protect against cellular damage and inflammation. Protective nutrients from rhodiola and turmeric are also in BrainHealth.
Ingredients & Warnings
Each bottle of BrainHealth contains 60 capsules, providing a 30-day supply following the suggested serving size and regimen.
Suggested Use:
Take 2 capsules daily with or without food, or as directed by a trusted healthcare provider.
Ingredients:
300 mg Proprietary Blend
[Olive Leaf Extract, Glycine, Taurine, MSM (methylsulfonylmethane), L-Proline, N-Acetyl-L-Cysteine, Vitamin B3 (niacinamide), Vitamin B6 (pyridoxine HCl)]
Plus:
Vitamin D, folate, Vitamin B12, Magnesium, Rhodiola Rosea, Solubilized Curcumin, Broccoli Extract, Green Tea Extract, Red Wine/Grapevine Extract Powder
Other Ingredients: Gelatin capsule (colored with FD&C Green#3, FD&C Yellow#6, and titanium dioxide), microcrystalline cellulose, rice flour, magnesium stearate
Warnings:
If you are pregnant, nursing, or taking other medications, consult your healthcare provider before using this product.  As is the case with all supplements, some individuals may not tolerate or may be allergic to the ingredients used.  Please read the ingredient panel carefully prior to ingestion.
Disclaimer:
These statements have not been evaluated by the Food and Drug Administration. These products are not intended to diagnose, treat, cure, or prevent any disease.
View full details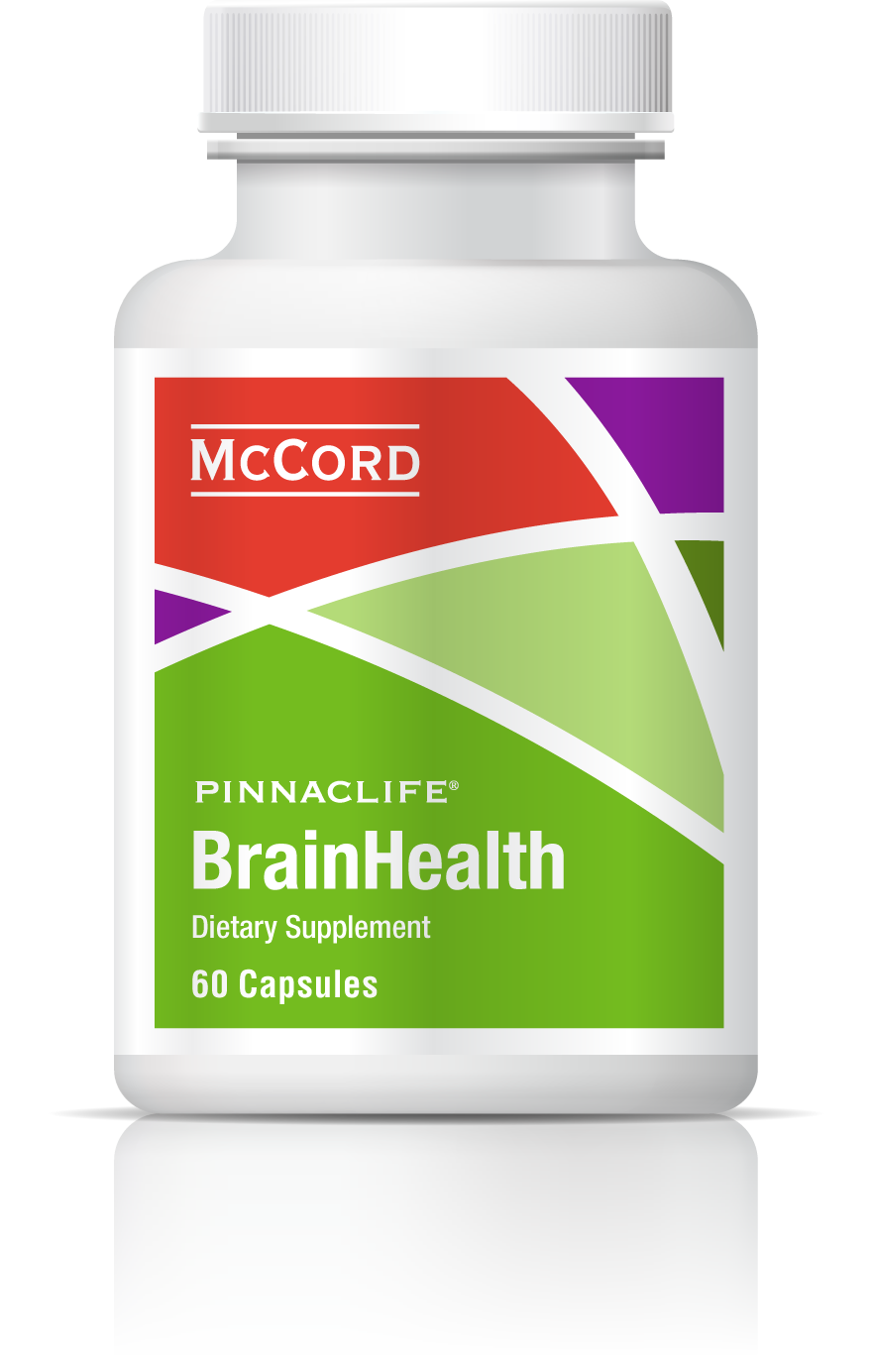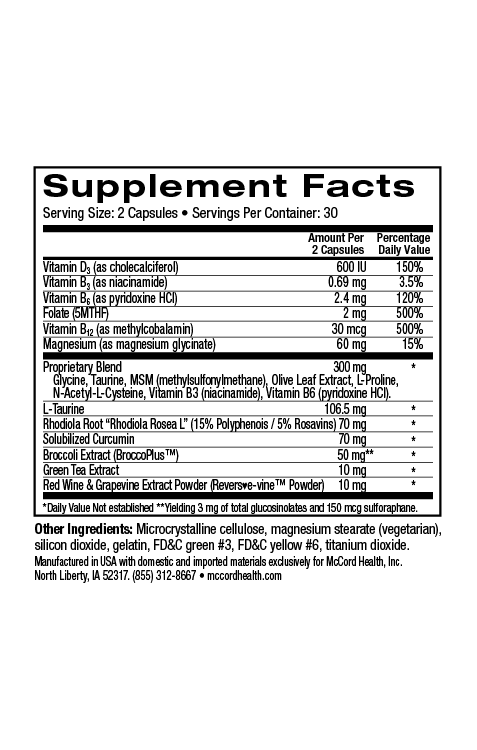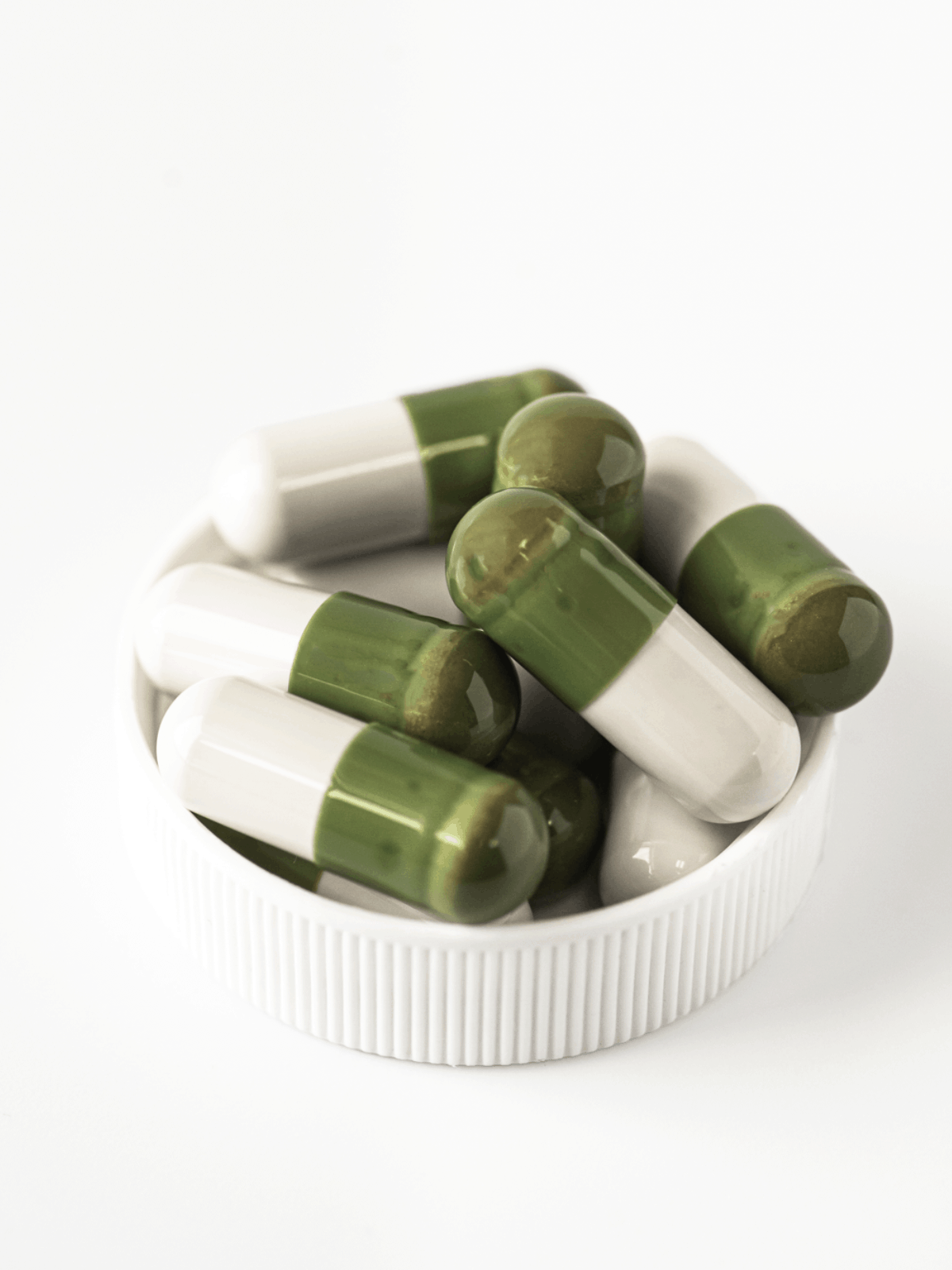 Shipping

Flat rate shipping is $7.95

Free shipping on Orders $50 and up